Membership Resources

NEW!
Maintenance SignUp
This year we have 5 wonderful gardens in West Concord that need our attention and care. To keep this manageable we are organizing the gardens into two maintenance groups:


1. Junction Park and Crest

2. Mandrioli Park, Kenny Dunn and the Library


We will need two teams of two people on duty each week this spring and summer to maintain the gardens. For this reason, we ask that gardeners signup for two weeks of maintenance this year. We do anticipate the effort required for each week of maintenance to be lighter than in the past.

To simplify the signup process we are using the popular web tool named SignUp Genius to manage the maintenance calendar. The tool makes it easy for you to see which weeks need coverage and who has signed up for maintenance. You can also change your signup at any time. 
You will receive email from Karen Jourdenais inviting you to access SignUp Genius to signup for maintenance. Though not required, we recommend you create a SignUp Genius account to make it easy to modify your signups.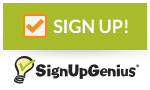 If you do not want to use the tool to signup, please contact 
karen.jourdenais@gmail.com
 with the weeks you would like to maintain the gardens. Be sure to specify which group of gardens you wish to maintain. Karen can do the signup for you.
Google Group for Emailing 
---